The following are documents, recordings, and other resources from our past events.
Past Meetup
____________________________________________________________________________________________________________________________________________
November 9th, 2023
Time: 11:00pm PDT / 1:00pm CST / 2:00 pm EDT
Topic: Make *New* Mistakes – Secrets from an Agile Success
Our Guest Speaker is: Bernie Maloney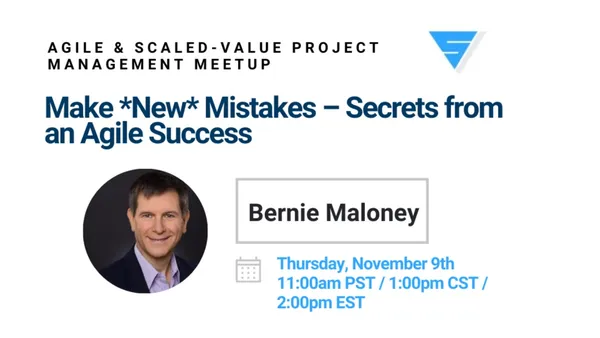 An introduction to the meetup:
Ever feel like the market moves faster than your marketing team? Or, wonder how flexible your finance (& leadership!) teams would really be if self-direction glitched and blew $1M? Organizations introduce Agile believing it will lead in part to greater responsiveness and resiliency. Yet, why do so many fail to achieve those outcomes?
It isn't just that they're structured and operated by default along hierarchical lines rather than by design for iterative work. Achieving the full benefits of Agile comes from shifting the culture and mindset of a whole organization, sometimes as radically as encouraging it to "Make New Mistakes." This very philosophy was a driver in the fastest division in HP's history to reach $1B, a hardware division that was focused on manufacturing operations, with razor thin margins, and markets that changed 3x faster than the development lead time.
Through a series of short stories and exercises, attendees will explore 5 practices from that business which led to roaring success. We'll probe their parallels in Lean / Agile practice. With each one, you'll briefly self-inspect the state of your own organization, as well as create a backlog you can use to adapt in your "real world" beyond the conference.
Do you have, or want, a vision that takes you beyond high performing teams, to a high performing, resilient business? Come hear how you can help your organization shift from mechanics that "do" Agile, and walk away with a feel for what's possible when not just development, but a whole organization surfs the flow of "being" Agile.
Video File / Presentation File
Takeaways:
Articulate the importance of a clear, shared purpose to guide Agility
Describe the framework of Situational Leadership and how to apply it to your own leadership style
Identify two ways to clarify decision authority and where that clarity can be improved in your business
Apply a simple "big picture" model to help match the Agile mindset to traditional business / project management
About The speaker:
Bernie's career started with a flash and a bang!!! Literally.
His first position was designing devices that protect telephone networks from lightning strikes. A few career pivots later, he had a flash of insight: it was possible to tap into latent potential in every person, every team, and every organization.
The teams he's worked with have grown businesses to beyond $100 million, delivering products from consumer electronics to network infrastructure to services & payments at firms including TiVo, Cisco, Wells Fargo and more. He's also a Certified Scrum Trainer® teaching private and public workshops, including Agile Product Development and Agile Leadership at Stanford Continuing Studies.
As an Agile Leadership Coach, Bernie helps clients achieve performance breakthroughs with their teams, their organizations and themselves. More, he believes that Accelerating Genius℠ is possible in every person and business, and leads both to outrageous effectiveness, and a whole lot more fun.
Attendees (54)
____________________________________________________________________________________________________________________________________________
October 24th, 2023
Time: 12:00pm PDT / 2:00pm CST / 3:00 pm EDT
Topic: Mastering Agile Systems Engineering for Agile Practitioners
Our Guest Speaker is: Dr. Nathaniel P. Crews Ph.D.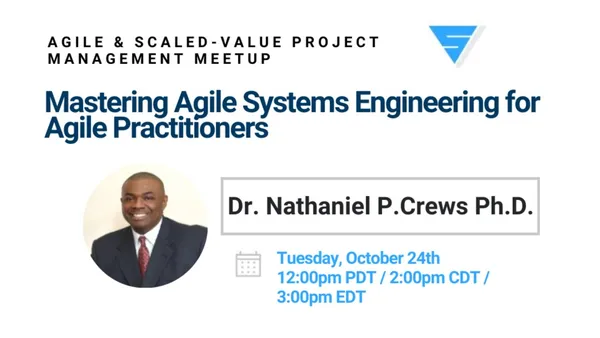 An introduction to the meetup:
Unlock Agile Systems Engineering excellence!
Embark on an insightful exploration of Agile Systems Engineering (ASE), a crucial methodology designed to navigate the intricate landscape of system development and agile systems development efficiently. Agile practitioners will acquire a solid grasp of ASE's transformative principles, adeptly blending the flexibility inherent to Agile with Systems Engineering's rigorous, structured approach. With these pivotal insights, Agile practitioners will leave poised to incorporate Agile Systems Engineering principles effectively, driving project success and innovation in their professional environments.
Video File / Presentation File
AI Scaled Agile Framework / Agile Contract Scaled-Agile Framework / Big Data Scaled-Agile Framework
Takeaways:
Understanding ASE Principles: Dive deep into the essential principles of ASE, appreciating its incremental, iterative approach that fosters adaptability and customer satisfaction in the volatile engineering landscape.
ASE Practices Integration: Discover practical strategies to seamlessly integrate Agile and Systems Engineering practices, enhancing team collaboration, communication, and productivity in delivering high-quality system solutions.
Navigating Complexity with Agile: Unravel the potent techniques of effectively managing and navigating through the intricate web of complex engineering tasks and projects employing Agile methodologies, ensuring timely and efficient delivery.
Risk Mitigation in ASE: Equip yourself with robust risk identification, assessment, and mitigation strategies in ASE, ensuring your engineering projects remain resilient to the dynamically changing requirements and market demands.
Continuous Improvement through ASE: Learn to leverage the power of feedback and continuous improvement ingrained in ASE, driving excellence in system development and maintenance processes while adapting to evolving stakeholder needs and expectations.
About The speaker:
Dr. Nathaniel P. Crews Ph.D. (a.k.a. Nate) is an accomplished senior leader with comprehensive experience and is well known for delivering tech solutions globally. A tech instructor for Caltech and UC extension programs, Nate coaches corporate clients worldwide, including Alcatel-Lucent, AT&T, Chevron, Boeing, and more. Nate is an Enterprise Business Agility Strategist and a certified transformation and leadership coach with expertise in Team Performance coaching, Executive coaching, Organizational Development coaching, Life and spirit coaching, and Neuro-Linguistic Programming (NLP). He holds a Bachelor's in Math/Computer Science, an MBA, an Executive Master's in Technology Management (Wharton), Ph.D. in Management/Information Systems.
Attendees (64)
____________________________________________________________________________________________________________________________________________
September 27th, 2023
Time: 12:00pm PDT / 2:00pm CST / 3:00 pm EDT
Topic: Debunking Misconceptions and Improving Scrum Practices
Our Guest Speaker is Matthias Orgler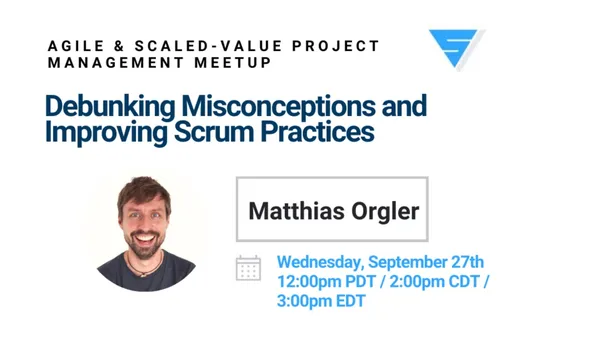 An introduction to the meetup:
What they didn't tell you about the 5 Scrum events?
Scrum is often misunderstood. A few common misconceptions arise in many Scrum teams. Detecting and understanding them can help you create more productive teams and better products. Approaching scrum with a different mindset can make it much easier.
Takeaways:
Scrum is not as easy as it seems.
Scrum is easier than it seems.
Don't mechanically apply methods.
It's about humans, not methods.
About The speaker:
Matthias Orgler is an Agile Coach, educating agile coaches, scrum masters and product owners to become unbelievable value creators. He is the author of the book "The Daily Scrum – is not a status meeting!". He has seen a lot in over 20 years in the trenches of agile. He has helped by transforming several teams and organizations into agile power houses. Matthias had learned Scrum from the framework's co-inventor, and through his experiences by failing forward his own startups. Last year, Matthias was awarded as Agile Thought Leader 2022. Matthias is passionate about passing his knowledge, mistakes and experiences to others, so we all can make this world a better place.
Attendees (86)
____________________________________________________________________________________________________________________________________________
August 16th, 2023.
Time: 12:00pm PDT / 2:00pm CST / 3:00 pm EDT
Topic: Role of AI in Enterprise Agile Transformation Journey
Our Guest Speaker is Farzad Moshfegh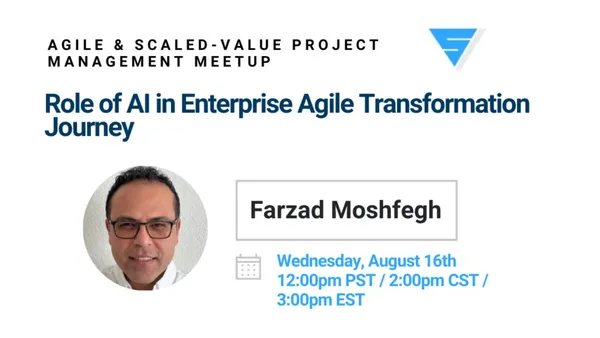 An introduction to the meetup:
SAFe 6.0 helps accelerate the adoption of the latest advanced technologies through expanded guidance for integrating AI, Big Data, and Cloud into value streams. Applying these technologies has become critical for competing now and in the future. AI can revolutionize solutions developed by SAFe organizations. Ai has the potential to dramatically influence the operational and business models of enterprises as well, during this call we will review the role of AI in Agile transformation jo
Takeaways:
Scaled Agile Framework 5000 feet's overview
Influence of AI on Agile Transformation Journeys
Obstacles of implementing AI for Scaled Agile Framework
Current AI products for Agile Transformation Journey
About The Speaker
Farzad Moshfegh Farzad is an innovative, strategic Agile practitioner with extensive experience in planning and executing high-profile initiatives and data-driven programs for fast-paced technology companies. He is seasoned in managing complex challenges, establishing alignment in virtual environments, and opening clear communication over cross-functional teams. Farzad has deep experience working with engineering, product, business, UX-UI designers, directors, and C-level executives. He is a Certified Scrum Master/SAFe POPM/SAFe SPC and earned his MBA in Agile Project Management from Golden Gate University in San Francisco, CA in 2015 with a focus on reengineering structures, processes, and tools to satisfy stakeholders' needs and requirements.
Farzad has severed several global leading companies like Nokia, Siemens, Expedia, Hotwire.com, Western Union, First Republic Bank, Morgan Stanley, and Equinix within the last 19 years. Farzad currently works as a senior cybersecurity technical product/project manager at PG&E.
Attendees (98)
____________________________________________________________________________________________________________________________________________
July 19th, 2023.
Time: 12:00pm PDT / 2:00pm CST / 3:00 pm EDT
Topic: Getting to Ready: Unhiding Work with a Backlog Refinement Board
Our Guest Speaker is Mark Grove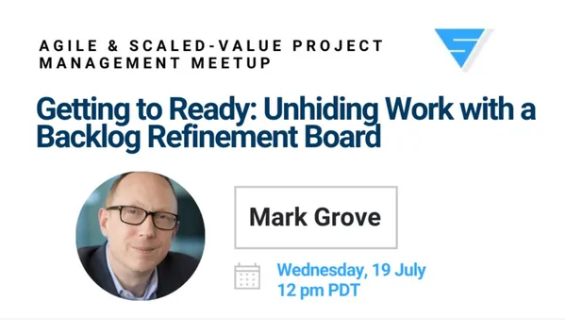 An introduction to the meetup:
Is your team losing its way during backlog refinement? Does refinement contain "hidden" work difficult to account for? Is a Definition of Ready weakly applied? Do you even have one?
Borrowing lessons from the Kanban method, we look at how to visualize a team's backlog refinement process using a backlog refinement board – ultimately allowing a team to make work more visible to better meet its Definition of Ready. Benefits include improved understanding of work items, an "unhiding" of work, an appreciation for "where" refinement work resides – leading to greater confidence the work item has truly met the DoR prior to sprint planning.
We'll examine how to identify the team's refinement steps, how to turn those steps into a visual board, discuss whether a refinement board should follow the same cadence as the sprint board, and team interaction with the board. We'll conclude with some real-world examples.
Takeaways:
Identify (at least) three patterns that suggest a visual backlog refinement board could be right for you and your team
Learn how to create a backlog refinement board using ideas and techniques borrowed from the Kanban method
Recognize benefits of creating a backlog refinement board
Review some real-world examples I have used.
About The Speaker:
Mark Grove is an Agile Coach and Managing Consultant with Excella in Arlington, VA. He has over 25 years in the IT profession with the last ten years focusing on coaching individuals and teams while leveraging practices from both the Kanban method and Scrum framework. His coaching and mentoring focus on understanding the flow of work, system optimization, value delivery, and team dynamics. He has developed and delivered numerous interactive training sessions and has spoken at several agile conferences and meetups. Mark is a Kanban University Accredited Kanban Trainer (AKT) and Kanban Coach, and a Certified Scrum Professional (CSP-SM, CSP-PO).
Attendees (71)
____________________________________________________________________________________________________________________________________________
June 21st, 2023.
Time: 12:00pm PST / 2:00pm CST / 3:00 pm EST
Topic: Building Capital "T" Teams with Team Agreements
Our Guest Speaker: Alexander (Sasha) Frumkin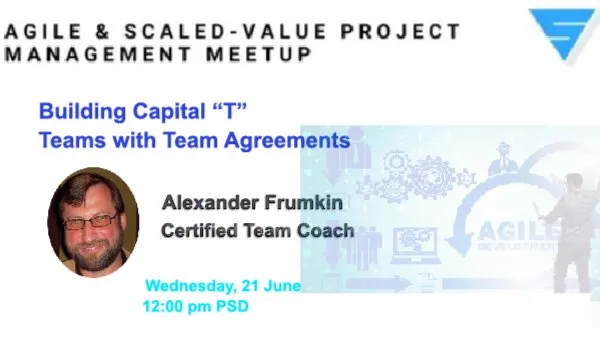 An introduction to the meetup:
Simon Sinek: "A team is not a group of people who work together. A team is a group of people who trust each other". A very important way Scrum Masters can be at service for their teams is building and fostering trust over time. The very first step can be building a mutual understanding that we are not "resources", we are vulnerable humans with our strengths and weaknesses, ups and downs. We have different cultural backgrounds and personality types. We might have a different system of expectations, a different system of defaults. When some of the team members do not behave like other teammates with a different background expect, it causes frustration and mistrust.
Building a team agreement is an opportunity to openly discuss mutual expectations, identify up front what we should do in certain scenarios to be effective as a team, on one hand, and turn our differences and cultural diversity into our benefits on the other hand. It is a chance to learn about each other and show appreciation for our diversity.
Join this session to learn about the importance of team agreement for establishing and fostering team trust. Gain some insights on how to facilitate team agreement discussion.
Takeaways:
Building trust when people have different cultural backgrounds and different expectations.
Cultivating psychological safety as a key for team performance.
Creating a team agreement – step by step
About The Speaker:
Alexander (Sasha) Frumkin (CTC, CSP-SM, CSPO, CSP-D, CAL-1) is a passionate agile coach and trainer. He has over 25 years of experience in software development, including senior management roles. Ever since discovering the Agile Manifesto in 2007, Sasha has lived and breathed agile and scrum. He believes psychological safety is a foundation for a house of scrum. Sasha partners with his clients to create a culture of brutal transparency, experimentation, and learning by doing. Currently Sasha is a principal agile coach at Bank of the West and facilitates the Agile Practitioner Online Special Interest Group. He is an inspired CST candidate who has already co-trained a few CSM classes.

Sasha can be reached at frumkia@yahoo.com and https://www.linkedin.com/in/alexander-frumkin
Attendees (61)
____________________________________________________________________________________________________________________________________________
April 12th, 2023.
Time: 12:00pm PST / 2:00pm CST / 3:00 pm EST
Topic: Measuring Awesome Agility – Stop the weaponization of metrics and focus on what matters!
Our Guest Speaker: Ian Maple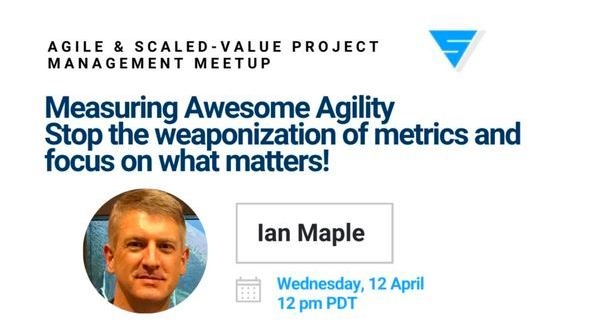 An introduction to the meetup:
Agile is the best form of software development, since everything else we have tried. But how do we know?
What should we be watching to ensure that we are delivering the awesome agility outcomes that Agile promises?
Measuring Agile is not simply about watching velocity and sprint commitments. In an increasingly customer-obsessed and data-driven world, teams and organizations must have a much more holistic view of the metrics needed for successful outcomes.
If you are picturing a sea of metrics that need to be turned green then you have the wrong picture. What is needed is a surgical focus on the metrics that matter to our teams that deliver customer value.
Takeaways:
How to start with the outcomes you desire and back into the agile practices along with their associated metrics.
How to drive from a user obsession perspective by starting with the problems, ideal state, and into the value we will deliver (stories, etc) along with the metrics at each step.
How teams and leaders can use metrics in a healthy way and what to not do.
How to build metrics into a healthy agile cadence.
About The Speaker:
Ian is an experienced global technology leader, trainer, agilist, and keynote speaker who has led and worked with teams and organizations of all sizes around the world.
Ian resides in Silicon Valley California where he spearheaded the enterprise agility programs for large technology companies including Workday and Intuit.
Attendees (120)
____________________________________________________________________________________________________________________________________________
March 16th, 2023.
Time: 12:00pm PDT / 2:00pm CST / 3:00 pm EDT
Topic: The Stages of Scrum Master Maturity
Our Guests Speakers are Brock Argue and Erkan Kadir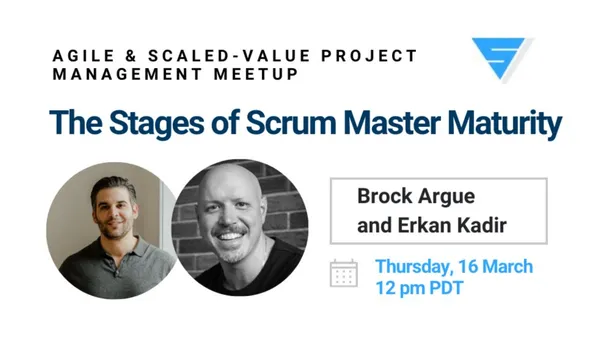 An introduction to the meetup:
How we grow and mature as humans has an outsized impact on our ability to fulfill our role as Scrum Masters. We all mature through a series of known stages that shape our values, behaviours, and how we make meaning of the world around us. And, as it turns out, the values necessary to "be agile" map directly to one of these stages. The implications for Scrum Masters are immense.
In this talk, we'll explore four decades of research into developmental psychology as applied to the Scrum Master role. You'll learn how Scrum Masters fulfill their roles at each level of maturity, how to assess your own maturity, and you'll leave with tools you can use to take the next leap in your journey as a Scrum Master and as a human.
Takeaways:
Explain the foundations of developmental psychology and stage theory.
Identify the impact each stage of maturity has on your ability to fulfill the Scrum Master role.
Self-assess your current stage of maturity.
Identify the next step to take in your Scrum Mastering.
About The Speakers:
Erkan Kadir is co-founder of Superheroes Academy and is an experienced international speaker. He shares new perspectives on agility at many meetups and conferences each year and his talks have been accepted at every major international agile conference including both North American and European Global Scrum Gatherings. Full list of talks available on his website: https://www.superheroes.academy/events
Erkan's at his best when he is working with teams and talking about big ideas. He draws on many years of experience building products, managing teams and leading organizations to catalyze growth. He excels at coaching teams into a greater understanding of themselves. Erkan's work has benefited many companies including: Digital Oilfield, ADP, Enverus and Suncor. He is a Scrum Alliance Certified Enterprise Coach℠ (CEC), Certified Team Coach℠ (CTC), Certified Organization and Relationship Systems Coach (ORSCC), ICF Professional Certified Coach (ICF-PCC), Certified Leadership Maturity Coach™ and an ICAgile Certified Coach (IC-ACC).
Brock Argue takes a holistic approach to agility – recognizing that all aspects of the business benefit from the application of agile values and principles. His style of facilitation creates an environment in which high-performing organizations can emerge. Brock's work includes agile transformations at Digital Oilfield, ADP, Benevity and Suncor. Brock seeks to support the ongoing development of coaches as they seek to transform the world of work and as such, he actively mentors aspiring coaches each year. Brock is a Certified Enterprise Coach℠ (CEC) and Certified Team Coach℠ (CTC) through Scrum Alliance, a Certified Leadership Maturity Coach™ through the Vertical Development Academy, an Organization and Relationship Systems Coach, an ICAgile Certified Coach (IC-ACC), and holds his ICF-PCC.
Brock has been a regular on the international conference and meetup circuit. He's spoken several times at Global Scrum Gatherings and Agile Alliance conferences. Full list of talks available on his website: https://www.superheroes.academy/events
Brock provides coaching, mentoring and certification programs to individuals and organizations as the co-founder and coach at Superheroes Academy (https://superheroes.academy).
Attendees (126)
____________________________________________________________________________________________________________________________________________
February 9th, 2022.
Time: 12:00pm PDT / 2:00pm CST / 3:00 pm EDT
Topic: Effective Retros Don't Grow On Trees
Our Guests Speakers are George Dinwiddie & Eric Rapin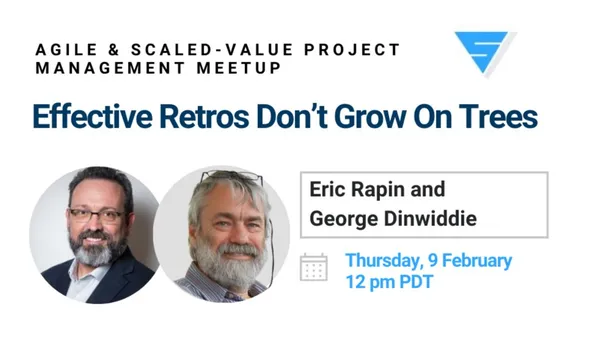 An introduction to the meetup:
Can Retrospectives be more than just "what went well" and "what can we improve"?
Effective, impactful retrospectives don't happen by accident. Deliberate design and skillful facilitation can lead participants down new though paths to incredible team improvements.
Come learn to cultivate better retrospectives.
Outline:
Capturing Data from Experience
Explore Observations and Interpretations
Insights into Emotions as Data
Takeaways
Q & A
Takeaways:
Learn an important aspect of effective retrospectives
Facilitating differentiation between observation and interpretation
Gain some new insights and ideas for retrospectives
About The Speakers:
George Dinwiddie helps organizations develop software more effectively. He brings decades of development experience from electronic hardware and embedded firmware to business information technology. He helps organizations, managers, and teams solve the problems they face by providing consulting, coaching, mentoring and training at the organizational, process, team, interpersonal, and technical levels. Involved in the Agile community since 2000, he has helped organizations ranging from a 6-person startup to a Fortune 100 company and a billion-plus dollar federal program, either directly or in partnership with other companies. He is the author of Software Estimation without Guessing: Effective Planning in an Imperfect World (Pragmatic Bookshelf), Evolutionary Anatomy of Test Automation Code (LeanPub) and co-author of Patterns of Agile Journeys (LeanPub).
Eric Rapin is a consultant through his company Lucid Agile, Inc. and a Scrum Alliance Certified Scrum Trainer®, leading efforts to adopt and improve organizations use of Scrum and other Agile methods. He has been working in software product development in various roles for over 30 years. Beginning his career as a software engineer and moving through various product development roles from dev to test to release and performance, Eric has covered the gamut in the software world, half of that time in various management roles. Eric discovered that many things he had started doing were articulated best by the Agile world and found a natural home there. Eric has worked at many leading companies such as Nortel, Apple, Sun Microsystems, Openwave, Adobe, Tableau, and Salesforce.
Attendees (67)
____________________________________________________________________________________________________________________________________________
November 30th, 2022.
Time: 12:00pm PDT / 2:00pm CST / 3:00pm EDT
Topic: Remote Teams that ROCK!
Our Guest Speaker: Kimberly Wiefling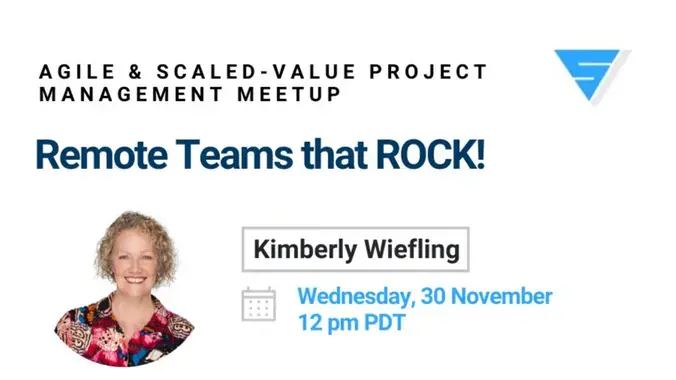 An introduction to the meetup:
We will engage you in an interactive, experiential session that demonstrates that permanent virtual teams CAN build strong relationships, trust, good communication, clear goals, and persistent plans…and execute with excellence together!
Communication skills are among the most powerful tools available to leaders. Study after study reveals that communication skills are one of the top skills required for success in life and on the job. In fact, the #2 reason global teams don't achieve their goals is due to ineffective communication. (The #1 reason is that they fail to build trusting relationships, which ALSO depends on skillful communication!) And VIRTUAL communication creates huge, but NOT insurmountable, challenges.
First step? Learn to use the tools! Start with Zoom as it's the easiest and most powerful for global virtual teams. Add in a dose of Google Docs/Sheets/Slides to amplify the power of your team to work in parallel.
Takeaways:
Think you can't engage and connect meaningfully virtually? You can! We'll prove it.
Tackle complex problems and make decisions together by interacting visually.
Work in massively parallel ways that will make you wonder if virtual is better than live!
Learn to lead effectively in this virtual world by engaging & connecting to people.
Avoid F.A.I.L.-ing for entirely predictable and largely avoidable reasons!
Kimberly Wiefling
Kimberly Wiefling is the founder of Wiefling Consulting a Silicon Valley-based global consultancy. A physicist by education, she recognized long ago the crucial role of human skills – what her engineering friends sometimes call "the touchy feely crap". Kimberly enables managers to become leaders and groups of people to become a true team, who can achieve TOGETHER what would be impossible to achieve alone. She has worked with companies from startups in Silicon Valley to the Global 1000, including over 50 globalizing Japanese companies.
Kimberly has worked with people from over 50 different countries. Her book, Scrappy Project Management, has gotten her invited to speak to audiences globally. She works globally with valued colleagues at Silicon Valley Alliances.
NEVER BORING! Her keynotes and workSHOCKs enable people to make positive changes to overcome the predictable & avoidable leadership, team & organizational culture issues that damage or destroy organizations.
Attendees (64)
____________________________________________________________________________________________________________________________________________
October 27th, 2022.
Time: 12:00pm PDT / 2:00pm CST / 3:00pm EDT
Topic: What does "Good" Look Like? The 4-Quadrants of Product Ownership
Our Guest Speaker is Bob Galen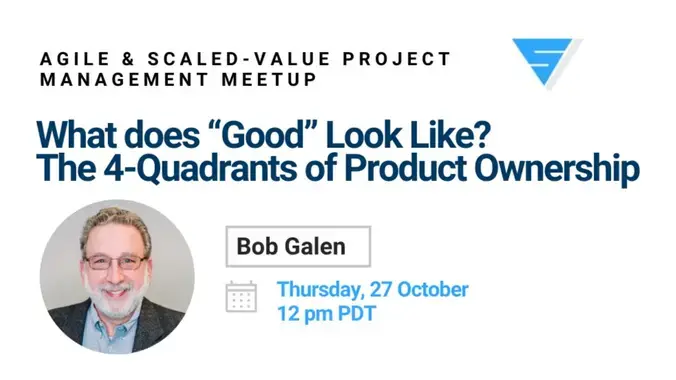 October 27th, 2022.
Time: 12:00pm PDT / 2:00pm CST / 3:00pm EDT
Topic: What does "Good" Look Like? The 4-Quadrants of Product Ownership
Our Guest Speaker: Bob Galen
An introduction to the meetup: The product owner role was introduced in Scrum in 1993. So, the role has been around for ~25 years. Yet, still we struggle with the nature of it. Is it simple or complex? Is it inward or outwardly facing? It is about backlogs and stories or something more? And is 'ownership' the whole point?
In this talk, Bob Galen will be sharing his 4-Quadrants model for what effective (good) product ownership looks like in the real-world. It will start with balance, because the role is so broad and deep in its nuance. The essence of the 4-quadrants says that there are product, project, analyst, and leadership parts to the role. We'll explore each in turn and talk about cross-connecting each area. We'll also explore the partnerships that are key to success.
You'll leave this session certainly understanding what Product Owner Excellence looks like and how crucial it is for team success.
Takeaways:
Introduce the 4-Quadrants of Agile Product Ownership as a framework for skills, responsibilities, and expectation management.
Deep dive into each of the quadrants and explore that aspect of the role; wrapping up with quadrant interactions.
Finally, explore Product Ownership at-Scale and the challenges associated with it.
Bob Galen
Bob Galen is an Agile Practitioner, Trainer & Coach based in Cary, NC. In this role he helps guide companies and teams in their pragmatic adoption and organizational shift towards agile methods of working. Bob has been doing that since the late 1990s, so he's deeply experienced.
He is the Director of Agile Practice at Zenergy Technologies, a leading business agility transformation company. Bob is also President and Head Coach at RGCG a boutique agile coaching firm.
Bob regularly speaks at international conferences and professional groups on topics related to agile software development, testing, scaling, and organizational leadership. He is a Certified Enterprise Coach (CEC), CAL I trainer, and an active member of the Agile & Scrum Alliances.
He's published four agile-centric books: The Three Pillars of Agile Quality and Testing in 2015, Scrum Product Ownership, 3'rd Edition in 2019, and Agile Reflections in 2012, and Extraordinarily Badass Agile Coaching in 2022. He's also a prolific writer & blogger (at – www.rgalen.com and www.agile-moose.com) and podcaster (at www.meta-cast.com)
Attendees (104)
____________________________________________________________________________________________________________________________________________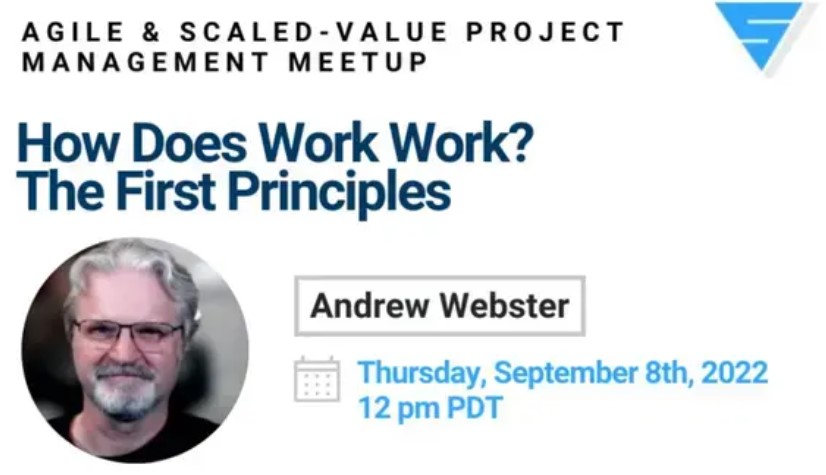 September 8th, 2022
Time: 12:00pm PDT / 2:00pm CST / 3:00pm EDT
Topic: How Does Work Work? The First Principles
Our Guest Speaker: Andrew Webster
An introduction to the meetup: Nothing seems to work! Everything seems to work! Which framework? Which methodology? Who's right? Who's wrong? How can we ever tell?
Wikipedia defines a "First Principle" as "… a basic proposition or assumption that cannot be deduced from any other proposition or assumption." This session might just save you many years of hard-earned experience. The framework marketplace is a duck-hunt of competing silver-bullet solutions, and it can be very costly and wasteful working out which would help you, in your specific situation.
So you're going to be introduced to a few very simple criteria to assess your situation, make excellent decisions about how to approach that situation, and stay on course as your navigate our increasingly complex world.
Takeaways:
A simple yet sophisticated situational assessment approach
A fundamental reason for almost all misunderstandings in the workplace
The core economic structure of worthwhile work.
Andrew Webster
A broad background in many different industries led Andrew Webster through software development and team leadership, to qualification as a senior Scrum Master and Product Owner and eventually to being an enterprise Agile and organizational coach, trainer, and consultant, working with a full range of clients, from individuals to major Silicon Valley corporations.
He's lived and worked in three countries and Alabama, and now lives semi-retired with his wife in the San Francisco East Bay, writing his first novel, running a meet-up (Wisdom at Work), and still working as a personal coach to a select few. His greatest desire is to ease the experience of everyone involved in corporate life, from customer to management to worker to neighbor to environment.
Attendees (71)
____________________________________________________________________________________________________________________________________________
August 2nd, 2022.
Time: 12:00pm PDT / 2:00pm CST / 3:00pm EDT
Topic: The Golden Rule of Agile
Our Guest Speaker: Larry Apke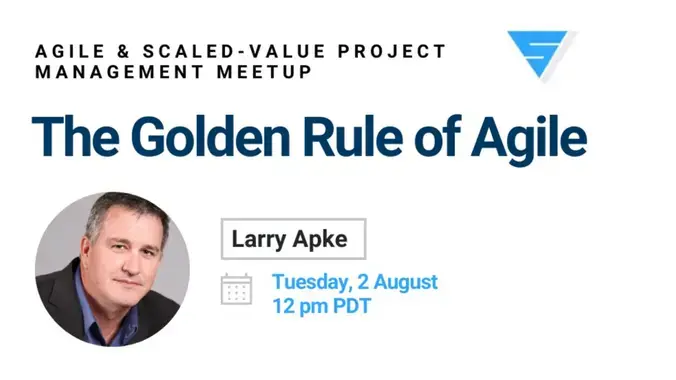 An introduction to the meetup: Agile is the four values and twelve principles outlined in the Agile Manifesto. Therefore, at its most basic, it is a philosophy. Would it be possible to take this philosophy, the four values and twelve principles and distill them into a single phrase? Maybe, maybe not, but wouldn't it be interesting to see what one Agilist has come up with? Larry Apke presents his version of the "Golden Rule" and talks about his own Agile journey which includes over a decade as an Agile coach and a running a nonprofit called The Job Hackers that has provided over $4 million of free Agile and Scrum classes to people all over the world.
Takeaways:
What is the Golden Rule?
How do we operationalize the Golden Rule through backlog management?
Larry Apke
Founder and Chief Agile Officer, The Job Hackers
Author of Understanding the Agile Manifesto: A Brief & Bold Guide to AGILE
Attendees (100)
____________________________________________________________________________________________________________________________________________
July 12th, 2022.
Time: 12:00pm PDT / 2:00pm CST / 3:00pm EDT
Topic: An Introduction to Basic Lean-Agile Solutions Team – BLAST
Our Guest Speaker: Al Shalloway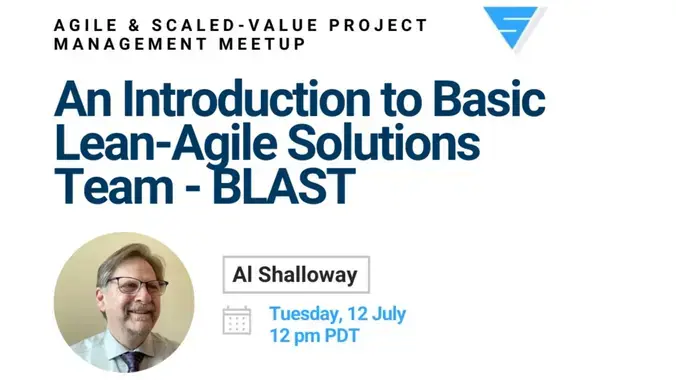 An introduction to the meetup: Achieving Agile across multiple teams is challenging for many. However, the reason for this is more due to a lack of understanding of key concepts, than that it is inherently difficult. In this seminar we look at how understanding three important concepts can make Agile at small scale (3-9 teams) readily achievable:
How to provide teams a way to align instead of having to have them coordinate
What value streams are and why they are important
The minimum business increment – how to track requirements and needs when creating enhancements to existing products
The value stream impedance scorecard – how to tell if a change in your process will be an improvement
After this background, the seminar will review the dozen points of the BLAST approach.
Attendees of this webinar will leave with an understanding of what it takes to do Agile at small scale. Many of the concepts presented will be useful at both teams and even larger scales.
Takeaways:
Why alignment is more effective than coordination
How and why to use minimum business increments
What value streams are and how to use them to improve your workflow
Al Shalloway is the founder and CEO of Success Engineering. Al is a recognized thought leader in the areas of Lean, SAFe, Kanban, Scrum, design patterns, Acceptance Test-Driven Development, Lean-management, value creation networks, Lean product management, and more. He is the creator of the FLEX system, which is the heart of the Disciplined Agile Value Stream Consultant workshop. He has co-written five books ranging from Design Patterns to Agile at Scale. He holds Masters degrees in Electrical Engineering and Computer Science and Mathematics from MIT and Emory, respectively. He is an international speaker. He is a former SPC Trainer and contributor to SAFe. His current focus is on providing an effective Agile at scale approach to large organizations, which includes helping internal change agents be self-sufficient in training their teams in a cost-effective manner.
Attendees (87)
____________________________________________________________________________________________________________________________________________
June 16th, 2022.
Time: 12:00pm PDT / 2:00pm CST / 3:00pm EDT
Topic: Lead with Joy and Watch Your Team Fly
Our Guest Speaker: Rich Sheridan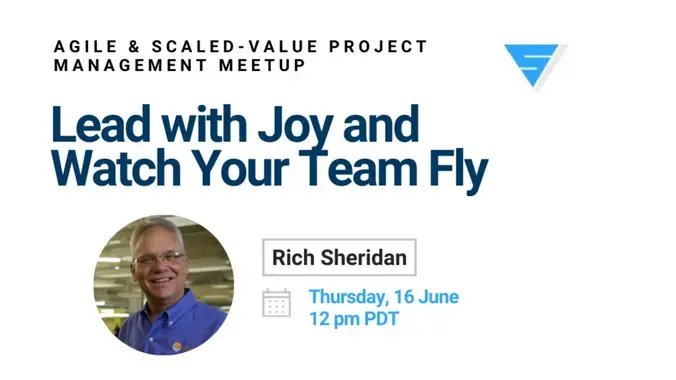 An introduction to the meetup: Change is hard, but in order to create a joyful workplace you can't continue to lead the way you've always led. In this talk, Rich explores his own journey to joy, focusing on how he had to learn to lead in a completely different way and, by doing so, witnessed results that exceeded his wildest expectations. In his talk, Rich applies the analogy of flight to the teams we lead. His message is simple: when we finally understand the relevant principles (in flight or in teams), we can fly to heights and distances that were previously unimaginable. But to get there, you, as a leader, will need to create change. Serious change. And you will need to undergo your own personal evolution as well. Drawing from his book Chief Joy Officer: How Great Leaders Elevate Human Energy and Eliminate Fear, Rich will share the personal and professional journey he has taken as a leader and invite you to join him at the vanguard of understanding what it takes to unleash the potential of the people who work for you and around you. He will explain how the longstanding and appalling disengagement statistics represent a fundamental failure of leadership and how you can reverse that trajectory in your own organization. Finally, Rich will discuss the simple, actionable things you can do to get your teams off the ground and flying. You will come away energized and inspired to start your own journey toward leading with joy tomorrow! And you will be firmly convinced that it is within your power to do so, no matter how big your organization or how longstanding its culture is.
Takeaways:
Lead with joy
Take concrete steps to elevate the human energy in your organization
Change how you and your team see the role of a leader
Turn your organization around to one that embraces action instead of meetings
Rich Sheridan, CEO and Chief Storyteller at Menlo Innovations, is a successful entrepreneur and author of two best-selling books—Joy Inc.: How We Built a Workplace People Love and Chief Joy Officer: How Great Leaders Elevate Human Energy and Eliminate Fear. Rich's passion for inspiring organizations to create their own joy-filled cultures has led him to address audiences across the world—through four continents and 18 countries (and counting) as well as throughout the United States. What motivates Rich to speak to tens of thousands of people around the world in nearly every setting imaginable? What does he share with his audiences that make them jump to their feet with enthusiasm and return to their organizations on fire with inspiration? Simply this: joy. More specifically, that joy in your organization is not just possible but essential—essential to profitability, to productivity, to every measure of success. Rich and his message of joyful leadership have been featured in press outlets ranging from Inc, Forbes, and New York magazines to Bloomberg, U.S. News & World Report, NPR's On Point podcast, NPR's All Things Considered, and the Harvard Business Review. His videos for organizations such as Gemba Academy, VitalSmarts, and the Arbinger Institute continue to inspire audiences around the world. Rich doesn't just talk about joy in the workplace. He lives it every day at Menlo, the custom software and consulting company he co-founded in 2001 in Ann Arbor, Michigan. Since then, Menlo has received worldwide notice for its unique culture, including recognition by Inc. Magazine as the most joyful company in America. Menlo has also been recognized by the Alfred P. Sloan Award for Business Excellence in Workplace Flexibility for 11 straight years and has received a lifetime achievement award for Freedom at Work from WorldBlu, as well as five revenue awards from Inc. magazine. Today people come to Menlo from all over the world—nearly 20,000 in the past seven years alone—to learn about Menlo and how they can create a culture of joy in their own organizations.
Attendees (50)
____________________________________________________________________________________________________________________________________________