I thought this would be a great topic for a Friday! It gives you the weekend to ponder it.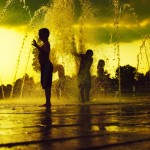 Last Friday I attended my first World Café. World Café Conversations are a way to create a network of conversations around important questions. Based on a set of design principles, Café Conversations link and build on each other as participants move between groups and cross-pollinate ideas as questions are explored. The question at hand was "Imagine project leadership five years from now. What can we do to shape that future?"
There are several discussion rounds. After initial discussions on where we thought the profession is today and where it should be five years from now, I moved to my last discussion table hosted by Pat Reed. She did an amazing job of keeping us focused on identifying the next steps to get us to our vision of project leadership.  One of the next steps we identified was a global "marketing campaign" to provide clarity on what a project manager is and does. We had a lot of fun brainstorming slogans like "we create synergy", "we know how to get it done", "we empower". We decided that no matter what the slogan the campaign should capture: attitude, stewardship and fun.
The most interesting thing was that upon hearing the word "fun", one person immediately dismissed this as being unprofessional. This totally took me by surprise. I don't know about you, but having fun while I am on a project is high on my priority list. Anybody who has worked with me on a project can tell you that. They will also tell you that I have extremely high standards and expectations, drive towards results and take deadlines seriously.
A lot of times, projects are stressful endeavors: there are deadlines, changing requirements, unrealistic expectations, you name it. If your team is empowered and expectations are clearly set, you will find that they will be a lot more productive when the work environment is fun. And with fun I mean a laugh here and there, taking the blame as the PM, an innocent tease, etc. Obviously the fun should be acceptable and not humiliate anybody (except yourself maybe). You can be highly professional and still have fun.
I have seen my share of death march projects and adding the right amount of fun makes them bearable. It helps in team building and done right, the team will have a "can do" spirit and help each other and you through "lows". We spend most of our waking time working so we better make sure we have some fun while we're at it.