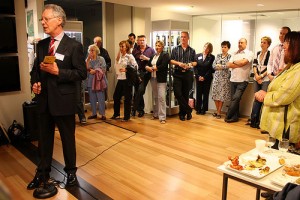 We're asking that every 6 months (too long/too short?) that the students in the Santa Clara Valley Water District's (SCVWD) Project and Program Management Certificate program do a short (half-page?) report on lessons learned to date. During that time most of them should have completed 1-3 classes (30-75 hours of training.)  Since the time taken to complete the certificate can vary from 1-5 years, we don't want to wait until the end of their program to collect data.
Students will also be required to submit an Executive Summary of their journal, which is a 1 to 3 page document with the most important items highlighting their development as a project manager during the program.
I think it might be helpful to have some key points to include in their Executive Summary.  I'm wondering whether to use the same thinking points from their journals, i.e.
Key objectives at start
Important concepts/techniques/tools
i.          Description
ii.          How they applied it at the Water District
iii.          Resulting improvement
Anything else worth capturing?   The SCVWD Training Department will ultimately use this information to justify the ongoing expense of project management training.  UCSC Extension in Silicon Valley will consider adding this data collection requirement to their publicly offered Project and Program Management program.
Sandra Clark
UCSC Extension in Silicon Valley