Organizational project management (OPM) is the bridge between project work and operations. The enterprise is better served the more fit there is between which projects are done and strategic plan The organization benefits if high-value projects are executed well so the ongoing operations can use the project outcome.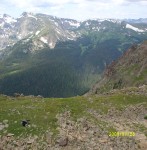 How do project managers go about answering the question of what value does their project provide the organization?  The answer to that question from a project manager is pretty tactical; just align the project to either the program goals, or the business case.
So what's a pragmatic and practical approach to get this done? Use some standard tools available in our project management toolkit. They are:
Project Alignment Tools and Techniques
•           Charter that states high-level business, mission and project requirements
•           Scope alignment with business case intent and content
•           Product/service requirements alignment with high-level requirements
In practice we have some challenges. Some BIG challenges. What are they?
Project Alignment obstacles
•           Lack of business case
•           Multiple stakeholders with conflicting needs
•           Missing charter
•           Adverse Internal Organizational Environmental Factors
•           Challenges in Risk Analysis
o          Missing, or
o          Forced silence
•           Organizational Change Management impact analysis isn't included
Did I get this obstacles list correct? What is missing? I welcome your comments.
Copyright 2009 PM Perspectives LLC