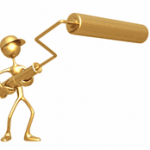 Thanks for your comments. You have shed some light on this subject. You have said in the comments for this series that what you really want is great work assignments, freedom, opportunity to take long vacations and good compensation aka money. But what is the path to these goals? Being a project management expert!
Making yourself into a publicity machine is a way to consistently have an opportunity to have discussions with project manager hiring decision makers. Don't be intimidated. I'm not suggesting you are "the" project management expert; only "An" Expert. Project Management is way too big for anyone to claim the king or queen title but we can all be experts in important areas. The world needs more portfolio metrics expertise – we haven't begun to understand how to be fully effective there. There is a lot of information on Agile but no person has cracked the code on how to actually deliver measurable success in global deployments. What about the lessons learned project management expert on the financial services mess? I would pay to hear that webinar! There are so niches that could be filled.
So why should you be a project management expert in a niche? Here's a couple of reasons.
•    Gets you to the top of the pile of resumes when hiring managers read your bazillion blog articles, conference presentations and books on your CV.
•    Gives you the guts to not ever be in an interview again as it gives you the credentials to turn the tables and pose strategic questions of the hiring manager.
•    Let's you swim with the big fish as when you hang out in the speakers room at conferences.
•    Lastly, produces a wow factor. I was embarrassed as my peers bowed down to me at a meeting of project management professionals after I published my first book. My face turned red as I chided them with a "stop it." But now I would probably pull my Sony voice recorder out of my purse and get testimonials that I would post on my website.
•    Double lastly, its cheap! All it takes is Fitch's Law; looking at a subject and providing new interpretations.
Leave a comment on your reasons to be an expert.
Take this survey on your biggest issue as a contractor or consultant:
Click Here!
Rosemary Hossenlopp, MBA PMP © 2009 All Rights Reserved
http://www.pm-perspectives.com