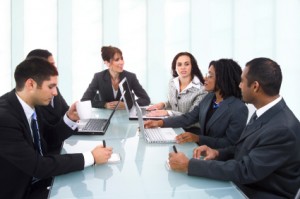 A great deal of a project manager's time is spent on communication. Successful project managers do the work in a more structured way and communication is no exception. You must understand your company's environment such as culture and standards. You also need to take into account your company's processes and procedures for conducting work and communications.
Identify stakeholders and bring them early. Stakeholders who are found later will make changes and could cause delays. Any change that is made later is harder to integrate and is much more costly. Communicate with the stakeholders effectively and on a regular basis. Give a project presentation, list all their issues and concerns, report progress and inform changes and updates to the project management plan. Another important function of a project manager is to prevent uncontrollable changes. Stakeholders have greater influences over the requirements as well as changes in a project. That is why it important to have effective communications within the team and between the team and other project stakeholders.
Let's try to understand why do you need a communication management plan?
Communications management plan reduces and mitigates risk
It provides you clear guidelines on how  you formally  interact with the project stakeholders
Communication management  plan provides tools to utilize resources effectively
It gives you the ability to analyze the impacts of various meetings
It also ensures mutual commitments with the sponsor and other stakeholders
The Communications management plan clearly documents all the deliverables and delivery schedules
You should  be able to deliver  the right message at the right time to sponsors so that you can control  rumors and unnecessary work products
A well defined communication management plan enhances your ability to meet stakeholders' expectations
A project manager inspires people, shares the project vision with the group and creates a very motivating environment.  Communicate with all levels of the members of your team regardless of level. Communicate clearly your plans & ideas and make sure everybody understands them.
Your communication management plan should include both internal communications and external communications. Your internal communication management plan includes status report, progress report, trend report, forecasting report, variance report, earned value report etc. External communications requirements include types of meetings and reports, existing policies and contractual agreements etc.
Here are some simple steps to create an effective communication management plan.
Step 1: Documents the followings
With whom you need to communicate?
What deliverables are needed?
What media you are going to employ in the communication?
When the communication will occur?
Where the communication will occur?
The purpose of the communication
Step 2:  Document the list of deliverables, the list of stakeholders and your stakeholder analysis for each stakeholder. You need to document communications requirements with the sponsor, with the functional management, the subcontractors and with the team.
Step 3:  Determine the needs for media. Your communication management plan should have a media section where you document the types of media that you plan to use for communications on this project. Document the media requirements to make sure that all stakeholders have access to the particular media or technology that they need for their required communications.
Most cases you will be using the following media types:
Conference calls
Fax
Knowledge repositories available on company's intranet
Paper reports
Power point presentations
E-mails
Video conferences
Instant messages such as AIM
Electronic files, including zipped files, word processing files, and spreadsheets
Web sites
Information stored electronically on company servers
Project management software such as MS Project
On line project tracking tools
Step 4:  Document a schedule for the milestones and communication deliverables. You should have a table or calendar that shows your deliverables and other communications time.
Step 5: Determine the assumptions, dependencies, and risks associated with your project communications.
List all important assumptions you considered while creating communications management plan such as all stakeholders speak English or all team members will be company's full time employees only. This may change the moment you hire contractors.
List all important factors upon which your communications management plan depends. For example, the communication among team members located in several time zones depends on how and when they communicate, what communication media they use and how they distribute reports.  A dependency is an input or output or time-related relationship.
When managing dependencies, confirm that the deliverables are well-defined, within the project scope, and also include a statement of work. Confirm that the schedule and cost are understood by the parties involved.
Identify past, present and potential risks that the current project faced, is currently facing or will face in the near future and list any important risks inherent in the communications management plan.  
Step 6:  Every work involves some cost and in your communication management you should itemize the costs associated with communications. For example, you should have a list of cost associated with conference calls , video conferences, instant messages such as AIM, your and team members time in preparing reports, cost of using other facilities etc.
Step 7:  The final step is to review your plan before you finalize it. Here is a check list of your communication management plan.
List of your stakeholders and your detail plan on their communication needs
Organizational type such as projectized, functional or matrix
Document any geographic or multicultural requirements
If you are working with a remote team make sure remote team requirements are met
Document use of technology against your stakeholders' access and technical skills
Check to be sure your stakeholders are assigned appropriately to the reports, meetings, and other communications types according to role, level of detail, and personal communication preferences
Review all the levels of communication and do not overburden stakeholders with too much or too little information
Your communication plan also should include the communication methods such as formal, informal, verbal and written. You communicate internally and externally to the project team and vertically and horizontally within the company. Use the following guidelines for selecting a communication method. However, please remember that every organization is different and you need to take into account your company's processes and procedures for conducting work and communications.
Formal written:  Project charter, reports to the management, project management plans, communicating between divisions etc.
Formal verbal: Presentations and speeches
Informal written: Notes, e-mails, memos, status updates among team members, online chat etc.
Informal verbal: Conversations, meetings, discussion and often water cooler gossip  
In step 3, we will discuss about project changes and  how you manage a change.