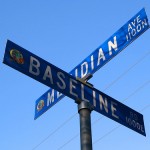 October 8 through 12 I attended the PMI Leadership meeting and after that the PMI Congress. I have actively volunteered for PMI on and off for the last 8 years and currently serve as the immediate past President of the San Francisco Chapter. Starting January I will be a member of the Leadership Institute Advisory Group.  Leadership meetings are an opportunity for active volunteers in leadership roles to learn best practices and learn from each other. The chapter or virtual community decides who will represent them at these meetings. Throughout my eight years of volunteering, I have attended several Leadership meetings in the US and Europe.
After awhile you notice a trend in questions and issues that are brought up by new volunteer leaders. There is a certain expectation that PMI Global should do xyz (fill in the blank) for the volunteer leader. Although there is some truth in this, I personally believe that as a leader we should take responsibility, set our own chapter strategy, and execute against it. This year it struck me that if the same questions keep coming up, something is not getting addressed. On the other hand, so much progress has been made that new volunteer leaders are unaware of.
What we are missing is a collective baseline. My baseline with PMI is 2001 when I joined the organization. Between 2001 and now, huge progress has been made both in the support of the chapters but more importantly in bringing visibility and recognition to the profession. In 2001, PMI was an unknown organization to me having moved here from Europe a few years earlier. In the 2002 downturn, project managers were seen as overhead and kicked to the curb faster than you can say "project manager". Now 8 years later, PMI is internationally recognized. The profession is internationally recognized and seen in most organizations as a strategic value.
Being stuck in today's realities, we have a tendency to forget the progress we have made both for our own personal lives as well as the organizations we work with. How as an organization can we create a collective baseline? If we set a collective baseline we can measure our overall progress. People who are new to the organization will understand where we came from and can focus their energy to all those improvement areas that are still there. Are you interested to take on this challenge? I am…