I just went to a memorial service yesterday that celebrated the special life of a dear friend. As I walked in, the family asked me to speak during the eulogy. The place was filling up. There were several hundred people there. My heart started beating faster, I caught my breath and speaking only from the top part of my diaphragm  . . . said yes.
I knew that I could find the words. And I did. The stories came quickly to my mind. I carefully sorted the mental presentation of how I could help bring closure, transition and hope to her family and friends. It was a privilege to talk about a life well lived.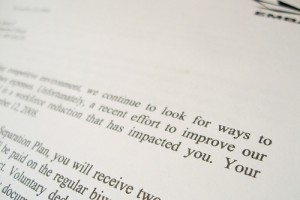 What does this have to do with project management? Well, a bunch! Many of us have been abruptly separated from our jobs. I have. It is a death of sorts. You feel the loss of your friends. You miss the routine of work. Some of our projects have been crazy, even over the top nuts and yet there are moments that still bring smiles to our faces about it. We are nostalgic about the good old days.
Yet the season has changed. Project management is undergoing wrenching global changes. The economy is forcing management to fundamentally rethink the employment paradigm. Outsourcing in the 90's began to impact our projects. This century, the full force of societal shift is upon us and we are now outsourced. To survive, we need to rejoin the project team as a contractor.
Ouch. We didn't see it coming. But we can't hang on to the past. It is like wearing a buzz cut of the 60's or the bee hive 10 inch hair style of the 50's. Those hair styles date us. Instead we need:
-different mindsets as contractors
-new consulting skills
-a business brand
Join me this week as I provide on overview of the industry and how to position yourself for success in the new economy.
Take this survey now for answers later this week on Project Management Contractor/Consultant Best Practices:
Click Here!
Rosemary Hossenlopp, MBA PMP © 2009 All Rights Reserved
http://www.pm-perspectives.com