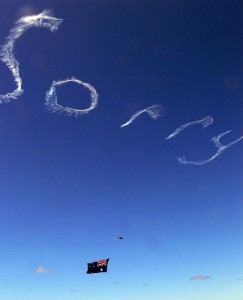 After years of managing online products and projects, you'd think it would become old hat… but never, not for this gal. There's always something new to learn, and a different twist on old scenarios, if you're open to them. People and team dynamics are endlessly fascinating, and you never know how it's going to go until you're right in the midst of it all.
I once had an Enterprise-wide initiative and program which involved multiple cross-functional teams and stakeholders in different states across the country. It was somewhat challenging because of the various timezones and varying processes regarding the different groups, but nothing compared to the "large" personalities present on my project team. Sound familiar, folks?! (By "large," I mean outspoken stakeholders who need their egos stroked accordingly.)
Sam was an Information Security Officer working on my team, who lived in Arizona. All I knew about him was that he loved playing golf, had 4 children, and routinely worked from home. He was a crackerjack security expert and liked to throw his weight around during discussions. My manager had warned me about him, so I was in the habit of treating him with kid gloves from the get-go. We needed his buy-in in order to get our security plans approved for our online platform, and I didn't want to risk alienating him. Without his review of the security plans, you guessed it – no Go Live and a potential project showstopper.
At one point in the project, Sam and I had a difference of opinion on a conference call, and I managed to upset him and in his perception, make him lose face in front of the other team members. He would not return my calls afterwards, and I was worried. You guessed it – I am a consummate worrywart, and sometimes I think PMs need to be champion worriers since sometimes everything goes wrong on projects (hopefully all that you were able to predict and plan mitigation for.) And yes, I can attest to losing sleep and getting gray hair per project issue.
After thinking about the conundrum for a few days, I wrote him a short email and left another voicemail, telling him I was sorry for what had happened, and wanting to put this behind us. Fortunately enough, I was slated to visit Phoenix to see some friends and relatives, and I suggested getting together in person for coffee.
Sam called and told me that he worked from home, about an hour from the company's data center. I told him no problem; I was willing to drive up there to the boonies. "I'm really sorry, Sam," I said. He heard the genuine concern in my voice and relented, "I was having a bad day. I'll meet you at the mall near the office at Starbucks."
The meeting was supposed to last only 15 minutes, but he kept me there for almost 2 hours. And we were good buddies by the end of the conversation, and have stayed friends ever since. In fact, he has recommended me for several other projects within the company, and I'm grateful for his endorsement.
It's amazing to me that in American business today, some of the hardest words to say are "I'm sorry." It's almost as if an admission of asking for forgiveness is tantamount to being weak or ineffective. As Project Managers, we need to learn to put our egos aside and practice "Servant Leadership." Our function is to remove obstacles so the team can get to work, not become them. And a true leader needs to be able to work with everyone, not just the chosen few.