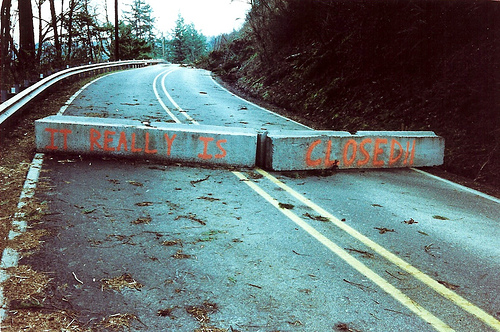 What can you do when you feel like you've hit a bump on your project manager career path? Here are my thoughts, and I invite you to add your own comments with advice for this professional.
From a pmStudent community member:
I have recently been made redundant from my high flying project management role. This position was with a FTSE 100 Energy firm and therefore I was pretty dissapointed when things worked out as they did. That said it happens. So guess I wondered what your advice would be for someone who has 3 years project management experience-having managed some pretty big projects in finance, IT and engineering services. The only thing is I don't have a qualification like Prince2 and am wondering how I would get recruiters and employers attention in a UK Market where atleast 5 years experience is needed for Junior project managers.

Any advice would be appreciated

Thank you
Certification
Gaining the predominant certification in your region is definitely a good idea. It's not all you need to do, but it's a good step. When potential employers screen your CV or resume you want it to make it into the "maybe" pile and a certification will help with that. Find out what's important to prospective employers, and also take into consideration your own industry and interests. IPMA, Prince2, PMP, etc. These might be possible candidates…but what about becoming a certified Scrum Master if you are in software development? There are a lot of niche credentials that may offer you a lot of personal value and make you more attractive as a candidate.
Stretch and Be Aggressive
On the experience question, the perception might be that everyone requires 5 years of experience. They probably say it right on the job posting. After I dropped out of university, I started in a technical role and worked my way into management positions. Being laid off many times, I had to constantly wrestle with the fact that most of the jobs I wanted "required" a degree I didn't have. I eventually did go back to school and earned the degree, but I learned that you can still land jobs that say they want more experience or education than you have. I've landed jobs in the past that required 10 years of experience when I only had 3-4 years of experience. My passion and demonstrated competency made up for the lack experience in the minds of the hiring managers.
It's all about separating yourself from the pack. Networking is powerful, because when people who know you are good refer you there is a trust factor that goes with it. Being aggressive and demonstrating that you can exceed expectations consistently works well. Don't just send your resume or CV and a cover letter. Make phone calls. Ask someone in the company what the big challenges they face are, and come up with a solution to them. Find ways to demonstrate your ability to add value to the organization.
Find a talk to people via social networks who work at the organization and network with them. I don't mean "hey, can you put in a good word for me?" to someone you just met. Asking good questions about them and the work they do are good ways to find out more about the organization. Take them out for coffee or lunch. Give first, with no direct expectations.
Every new job should be a stretch, at least that's my philosophy. If you don't have to learn more in order to be successful, then you're stuck in a rut…you are not growing. Sure, every employer would love to hire someone who already knows everything and can hit the ground running. They realize that's not always feasible though, especially when people are moving up into a new role.
Consider Alternatives
Sometimes it's best to target related roles which allow you to keep close to your desired role and perhaps act as a stepping stone later on. One example in my career was many years ago when I lost a job leading the technical operations for a company and stepped into a call center manager role. It was a large step down if you look at it with a short-term mindset (role/salary was much less), but the decision was deliberate because I wanted to get my foot in a particular organization and I had an idea about how I could prove myself within the company and move into other roles.
Here, sometimes you have to wrestle with being overqualified for a position. In the cases I have done this I've had to anticipate the hiring managers' hesitancy to hire me because they thought I was overqualified and would leave as soon as something else popped up. I usually initiate a frank discussion where I discuss that although I am overqualified, my goal is to work for this company. I let them know that I see myself moving into a different role (within this company) a few years down the road, but the way I build credibility and trust is to outperform and exceed expectations. I have to do that in this role first, before I'm going to even start considering other positions down the road.