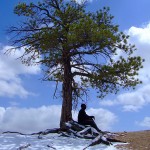 Me – try to inspire – but why?
So, here we are – another Monday. Many of us traditionally start Monday on a low note. Back to the grind, back to the routine – same old. We will likely have the first of many project meetings on Mondays. Will you just go through the motions of collecting status, taking minutes and following up on action items? Have you given up trying to do more than the basics? Well, frankly, we can all get into a rut from time to time – and for some reason, many of us seem to routinely do so on Mondays. Sometimes we don't get out of the rut until Fridays – and then it continues on and on throughout the weeks, months and the year. If this is you, I am asking you to stop and break the cycle of the routine, break the cycle of the ho-hum Monday. I am asking you all to take a different stance. Why is this important? Well, because we are all leaders. How we lead makes a huge impact on the entire project team. You lead not just with a meeting agenda – but an inner spirit. When you exude enthusiasm, energy and a positive attitude, you have the ability to impact everyone on the team. When your leadership style sizzles, the team follows suit and the business impact is maximized.
One of my objectives over the years has been to become an inspirational leader. That is, not just someone with a title, but someone who can really set the spirit, and lead the way. This has been an interesting journey and one fraught with many failures and some successes. One thing I learned is that to be inspirational, requires that you yourself need to be inspired. One of my favorite sources of inspiration is inspirational and humorous quotes.
So, this week, I am daring you all to journey off the beaten track – inspire yourselves and your teams. Each day, I will share with you one of my favorite quotes, and ask you to think about how you might apply it to your situation. These are the quotes that I have used often during my career which have come in handy to dealing with many challenges.
Here is a quote to kick off your Monday:
The difference between what we do and what we are capable of doing would suffice to solve most of the world's problems. Mahatma Gandhi.
As you are heading off to your first project meeting this week, think about getting out of the routine and ask yourself whether you are really engaged, energizing and enthusiastic. Are you tapping into the full potential of your project team? It will make a world of difference!