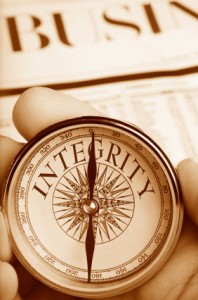 Key success behavior #5:  "Do the right thing", really wraps a pretty bow around all of the previous blogs on this topic this past week, and a great many more critical leadership behaviors that I haven't mentioned at all.  Although incomplete, all together I think the five are an impressive list:
Keep Your Promises
Don't Lie
Don't Blame Others
Don't Play the Victim
Do the Right Thing
This standard can be quite a challenge to live up to – daunting even.  Temptation beckons.  Stress and overwork warp our judgment.  The lapses of integrity of other people, commonplace in some work environments, provide a handy excuse for our own.  (At least we can comfort ourselves with the thought that our behavior isn't as bad as theirs.)  And there are rewards for deviating from these behaviors.  But those who adopt such behaviors must either maintain a fog that masks self-awareness of their behaviors and their impact on others, or a steady stream of self-delusion to constantly justify them.
However prevalent examples of people violating these principles may be, as a project leader you simply cannot afford to indulge in them.  Your power as a leader is at stake.  And stumbling now and then is no excuse for giving up on these principles entirely.  As Winston Churchill said "Success is not final, and failure is not fatal.  It is the courage to continue that counts."