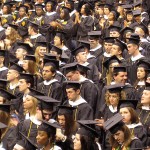 We see them on the streets, in the coffee lines, at the movies.  They are master multi-takers, able to text-message, surf the web, talk on the phone and download music all at the same time.  They are Millennials.  They are everywhere.
For us Baby Boomers (born 1946-1964), it's almost impossible for us to imagine that the same faces that recently glared at us across the dinner table are the same faces joining our project teams.  We have become multi-generational project teams, incubating our very own melting pots.
The Millennials (born early 1980s-2000) also known as Generation Y, GenNext or the Google Generation are 76 million strong and make up the fastest-growing segment of workers today.  Their work styles, work ethic and work philosophy can cause great disruption on our teams, if we don't pay attention.  On the other hand, the arrival of the Millennials may be the best thing to have ever happened to projects today.
According to Lynne Lancaster and David Stillman, authors of The M-factor, Millennials have a knack for finding creative solutions to workplace challenges.   They also want to know they are making a difference at their companies.  They have an aptitude for creativity and innovation; Millennials have mastered an array of gadgets and have acted as "consultants" to family and friends on everything from how to program cell phones to buying digital cameras.  It's natural they will want to use these skills in the workplace — imagine the possibilities.
Invite Millennials on your project teams as soon as you can. They love being part of a team and are happy to work toward a group goal.   (Can you say that about all your team members?)  Millennials believe they can change the world; imagine what they can do for your project.
Lisa DiTullio, Principal, Lisa DiTullio & Associates, www.lisaditullio.com