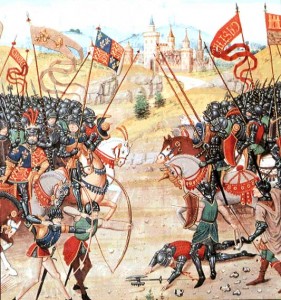 In this entry we look at a project conflict resolution tool and relate it to a recent interesting but little-publicized news event which is funny in a way, but very, very sad in a much deeper way (excuse the pun).
The tool is the Thomas-Kilmann model, which sounds very fancy and hard to understand but is actually very straightforward, powerful, and applicable to your role as a project manager in understanding and dealing with conflict.
And you know that as a PM you will deal with conflict.
Why?  Here are three main reasons:
Projects are – by definition -new and unique, and invoke change.  People are – by nature – adverse to change.  This is fundamental.
You will be managing the project "as if" you are a supervisor/manager of a team – without the commensurate title/level that has the team members actually reporting to you.
You have team members – again, by definition – from different disciplines that think and behave differently (think artist and engineer, software developer and installer).
You can already imagine that the conflict is multi-dimensional.  Between you and another project or project manager.  Between "silos" of departments or organization.  Between team members on your project.  Between team members on your projects and their managers.  And on.  And on and on.
The Thomas-Kilmann model looks at the ways people deal with conflict in two dimensions: assertiveness and cooperativeness.  Note that assertiveness is not aggressiveness.  Here it's  a scale of how much you assert your will along a scale from 'not at all' to 'at all costs, assert my will'.  Similarly, cooperativeness is measured on a scale from 'not at all' to 'at all costs, cooperate'.  A simple chart (see below) plots two these dimensions against each other and yields 5 ways of dealing with conflict.  You can even take an assessment to determine where you and your team members fit in this model.  In any case, no one way is better than the other.  A project manager has several key takeaways from this:
1. Recognize that conflict will exist and that these aspects (assertiveness and cooperativeness) contribute
2. Recognize the type of conflict you have and when the various types of resolution work when you are an arbitrator
3. Same as above for those times when you are a party in a conflict.
Looking at the chart you can see that there will be times – times of urgency – where the PM will need the competing role and 'lay down the law' and direct the project team.  Perhaps the more steady-state role of the PM is in the collaborative area – at least in assuring that this is the area in which your team is working.
There's alot more.  See an amusing post with much more on this topic, from our sister site ScopeCrepe , here.
---
Now let's move on to that news story we mentioned up front.  Here's an extract from the AP (Associated Press) news story:
NEW DELHI, India – For nearly 30 years, India and Bangladesh have argued over control of a tiny rock island in the Bay of Bengal.  Now rising sea levels have resolved the dispute for them.  The island is gone.
New Moore Island in the Sunderbans has been completely submerged, said oceanographer Sugata Hazra, a professor at Jadavpur University in Calcutta.  The disappearance of the uninhabited isle has been confirmed by satellite imagery and sea patrols, he said.  "What these two countries could not achieve from years of talking has been resolved by global warming" Hazra said.
See the map below to locate this (former) island, called New Moore by India and South Talpatti by Bangladesh.

Scientists have noted a dramatic increase in the RATE at which sea levels have risen – not the rise, but the RATE of the rise – until 2000 the rise was about 0.12 inches a year, but in the last 10 years it has nearly doubled to 0.2 inches per year. Ten islands in the area, some inhabited, are at risk. Lohachara was an inhabited island which was already submerged, inhabitants having to move onto the mainland in 1996. Estimates by scientists say that 18% of Bangladesh's coastal area will be underwater by 2050, displacing about 20 million people.  You can read about this in an article from the UK newspaper The Telegraph, here.
So – how do you choose to resolve conflict?  Perhaps you can just wait until climate change causes your project to go underwater.  But we recommend using a measured, practical approach with the advantage of the knowledge provided by a careful analysis, perhaps using the Thomas-Kilmann model.
Read more about the intersection of Green and Project Management at our site: EarthPM.com.  Also note that our book, to be published by CRC Press, is coming out in September.