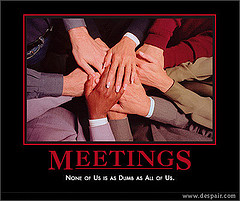 Whenever I ask someone if they use Social Media at work, the answer is usually no.  Sometimes, I come across someone tasked with handling the company's Facebook or Twitter, but typically, people say they use it in their personal life but not work.  They also tell me that they wouldn't even know how to use it.  Maybe that's because most people think of Social Media as just Facebook or Twitter.
Social Media is any form of media that sparks engagement or conversation online.  It can be a blog, forum, chat room, but also video and photo sharing.  Simply put, Social Media is talk (or something that sparks talk) online.  Because Project Managers play the role of planning, organizing, and managing resources – all social tasks – it feels right that Social Media could be a central management tool for their projects.
Here are 4 reasons Social Media could help you manage your projects:
It's better than email. Most of us use email as a primary method of communication.  We use it to communicate direction, decisions, timelines, and approvals – just about everything.  Project teams typically have many core members as well as a number of other people who are copied on the emails to keep informed. Every time you send out an email, you will probably get individual replies asking you questions; often, the same question.  Social Media allows your conversations to be transparent and persistent.  You can reply once have everyone can see it – it's not buried in your email.  And, even better, one of your team members might reply for you if you are in a meeting or working on something else.
It's a Meeting Killer. Meetings are critical, but also hard to schedule.  Many projects get held up because we have to wait for meetings either to collect information, gather feedback or decisions to be made.  But, let's face it, most meetings are driven by one person using a PowerPoint (or some other document).  Imagine throwing the document on Slideshare or SharePoint and enabling other team members to comment there, on their own time.  The decision maker can review the PowerPoint, read the feedback and take action.  I don't think Social Media is ever going to replace all meetings, but take a look at your crowded calendar, and I bet it could replace a few.
Even the Weekly Status Meeting. The reason Facebook is so addictive is that it is engaging.  It's one central place to stay up-to-date on what all your friends are doing.  Doesn't that sound like a weekly status update meeting?  If each team member is using the same platform to keep each person up-to-date on what they are working on, what their issues are, and what they need, there may not be a need for a Weekly Status meeting.
It helps you stay-in-touch your customers and partners. One reason projects fail is that they can take a long time, and during that time, customer needs change.  Social Media gives you the opportunity to keep them in the loop at each stage of your project.  It allows you to give updates, show progress, and to get ideas and feedback.
Companies like Jive, bluekiwi, Yammer, and others are trying to create the preferred social media platform for companies.  I think in a few years, many of us will be using these to manage our conversations and even our projects.  Unlike MS Project which was focused on dates, and Sharepoint which is focused on documents, the heart of any project lives and grows with the conversations of the team members.
These are just some ideas that might work for project managers, but I'd love to hear how other project managers are using Social Media.  Do you use it today for work?  If so, what has worked the best and why?