Is anyone up in arms yet?
Good.
From a Reader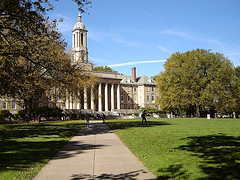 Anne from the US
is a recent subscriber to the Project Management Career Newsletter.
She hit reply to one of my messages to pose a question and get my take.  Thank you Anne, for permitting me to share some of our exchange to benefit others!
The following is excerpted from Anne's message:
"Thanks Josh. I'm about to complete my MBA and was wondering if that will ever help me rise in my PM career? I've already been in IT for 13 years, working as a PM for 7. My co-workers seem to think my MBA is a worthless piece of paper, but I feel I've learned a lot in the last two and a half years."

Anne
Value of the MBA
Education is never wasted as long as you apply yourself and really learn the material. Having an MBA never hurts your prospects. Just know that the "piece of paper" is not the true benefit…the education it symbolizes is.  If you are growing professionally in the direction you want your career to go, excellent.  Don't listen to the haters.
Coping Mechanism
The "worthless piece of paper" syndrome is common. Sometimes what they mean is that it's worthless to them personally. They didn't learn the material and have no interest in the business side of things evidently, so of course they are right. Perhaps they are jealous, that is certainly possible as well. I see the same thing with certifications, other degrees, etc.
It's a coping mechanism. People don't like change, even when other people around them are changing. If you are doing something like this, it makes them wonder if perhaps they should be doing something to advance their own careers. That makes them uncomfortable, because they are not doing any personal development.
It's Up To You
My own career started taking off and I started enjoying work more when I realized it's all up to me. Instead of just hoping my environment would change, I decided to change it myself.
I started by looking for companies where I might want to work (not looking for jobs). I contacted people in HR or in project management at these companies and chatted with them on the phone, via email, even meeting them face to face just to talk about the company and where I might fit into it some day, even though they weren't hiring at the time.
Handling Negativity
I've battled negative attitudes at the workplace. I remember a time where I actually said the childish phrase "If you don't have something nice to say, don't say anything at all." I felt like Thumper. I started responding to people calls to action like "So, what are you going to do about that?" or "I see. Let's go talk to _____ and make sure they understand why that won't work."
After people started seeing that they weren't going to get any sympathy or complacency from me for their "Complaint Du Jour", I didn't have to hear it much anymore. True, some people stopped talking to me….their loss. Most just changed their behavior around me.
Share your experiences in a comment below!