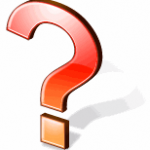 How do project managers get executive level panache. You know. The kind that is needed to:
• successfully deliver bad news, or
• mediate between some fearsome stakeholders, or
• work on a daily basis with adversarial departments, or
• state that the project needs to be re-scoped or cancelled.
Gulp. These are tough issues. But these are tough times. Times like this call for protecting our panache.
What's panache? Its your distinction style. You know project managers who have a special sense of dash, verve, or flair? They seem to consistently pull off tough conversations with apparent ease and confidence. And they get noticed and get recognition and respect.
So how do project managers get panache? That's my question of the day. Would love to get your comments on which is most important in developing senior project management leadership skills. After all, that is the result of having panache.
Which of the following most strongly contributes to project manager panache?
• Competence in the subject matter domain e.g., knowledge of a particular field – construction, web development, financial services etc.
• Competence in project management e.g., process and life cycle knowledge that provides best practice direction to team and management.
• Communication skills e.g., ability to accurately communicate information and messages about project status.
• Context flexibility e.g., adapting responses to environments – project team vs. executive presentation.
• Cultural awareness e.g., taking off our North American filter and expectations or whatever filter is cozy & comfortable to you – gender, personality, or pride.
• All the above:-)
• None of the above:-(
Looking forward to commenting on some of your answers.