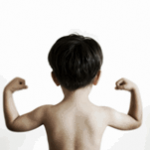 Courage is positioned as a pivotal issue for project management panache by Mike Levy. Courage is facing difficulties without fear. So what's to fear in project-land? Plenty!
Let's name a few fear factors:
•    Potential loss of job
•    Actual loss of team members
•    Churn in project portfolio's
•    Confusion in corporate goals
•    Lack of time for skill development
•    Increased workload
Don't get me wrong. I don't intend to add to the clamor of doom and gloom. In fact, I have gone on a media diet. I stay away from my hotel newspapers, airport TV's and deleted news headlines from appearing on my Google desktop. I'm committed to staying optimistic in spite of this economy.
So what are other ways to demonstrate your courage? Let's take a lesson from history.
Courage is what it takes to stand up and speak; courage is also what it takes to sit down and listen.  ~Winston Churchill.
So what could we learn from this?
Project Manager Panache – Stand up and speak strategies. Be
•    clear
•    calm
•    consistent
Project Manager Panache – Shut up and listen strategies. Be
•    conciliatory
•    concentrating e.g., focused
•    contemplative e.g., mindful of what is said
Panache and persisting courage go hand-in-hand.
Thanks Mike for this insight.