Teams.  It seems like such an obvious part of project life.
Or, is it?
Recently, I've been noticing some things about project teams that trouble me.
Here are some descriptions of a team:
A group of two or more people with complementary skills who are committed to a common purpose and approach for which the team holds its members mutually accountable .
— Katzenbach & Smith, 1993
People working together in a committed way to achieve a common goal or mission. The work is interdependent and team members share responsibility and hold themselves accountable for attaining the results.
— MIT Information Services and Technology
A group in which members work together intensively to achieve a common group goal.
— Lewis-McClear & Taylor 1998
Note in the first and third description that a team is NOT just a group.  A team's members are "mutually accountable" and have a "commitment" to a "common" purpose and work together.
Great. So what's troubling me?  I'm seeing more project groups rather than teams.
I"m seeing groups, that are supposed to be teams, parcel out the individual work, have the individuals work pretty much on their own,  have weekly meetings (often grudgingly and under protests of wasting time), then doing some kind of periodic collection and collating of the individual work products.
Now, I'm not suggesting that groups can't be productive.  In fact, groups can be more appropriate in certain situations than teams (perhaps you can think of some?).
No, what worries me is that by confusing groups for teams, we are accepting a less effective approach to solving problems and creating value.
In project management classes and in some of my project management consulting work, the participants are assigned work to do in "teams."  I've noticed that many of these proto-teams move almost immediately to a divide and conquer approach, coming up with tasks and assigning individuals work.  Most of these groups do a competent job.  Most are pretty satisfied.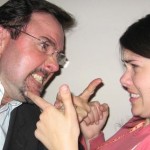 … and then there are those groups that have problems.  Can you imagine (remember?) what some of these might be?  We can talk more on these problems in later blogs.  What I find compelling is that many of these groups with early problems turn out be the ones that excel in the long term.
Perhaps paradoxically, the early problems allowed (forced?) some to confront barriers to team formation.
One of those barriers is what Patrick Lencioni — The Five Dysfunctions of a Team: A Leadership Fable — calls the absence of trust.  The divide and conquer approach often does not require a great deal of trust – so long as a basic level of competency is maintained.  Why struggle through a barrier if you don't have to?
Those groups that do confront and breakthrough the barrier, however, often go beyond competency and do extraordinary work.  These teams are also more likely to report higher satisfaction and morale.  They often note the intensity of interaction as a key contributor to that satisfaction and performance.
… and yet — when asked how common it was to experience this teamwork in their workplace, very few report it to be common.  When asked why, lack of time comes up often, as does non-colocated team members.
Are we too often sacrificing the potential of high value coming from true teams in the name of time efficiency?  Are we confusing investment for cost?
I'm hopeful we can discuss this more this week.
alan