Well, here it is Christmas Eve, and it's the day for cooking up a feast, admiring the tree, and fighting exhaustion.
Whaaaat???? Everything is Critical Path!  Where did all the slack go?
It all started out a week after Thanksgiving… my mom and I had finally got our energy back from the cooking marathon that is Turkey Day.  We're Greek, you know.  Turkey Day includes Spanakopita, Dolmas, and Baklava.  Oh yeah, there's a turkey too!
Anyway, a week later, my mom and I sit at the table and start talking about what to cook for Christmas.  "Either Lamb or Roast Beef" she says.  What kind of vegetable?  Potatoes or pasta?  And on we discuss, with me making notes on a pad of scrap paper…. It's my attempt at putting together a plan, a Work Breakdown Structure, if you will.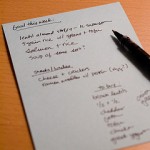 A day later, it's a Sunday; she says can you take me out? "Sure! Where are we going?"   I should have known… its tree shopping day!  Now, my mom LOVES the smell of a fresh Christmas tree, and she grew up on the farm in Greece. It's very important that it should be fresh, perfectly shaped, and she should haggle for a deal!  Several hours later, we have the perfect tree tied to the roof of my car.  We haul it up the stairs, with constant reminders not to break any branches!  There's a look of elation on her face. 
Up the tree goes, and now to excavate the ornaments from the garage.  As kids, our mom would sit in the recliner, and direct us to decorate the tree. Now as an adult, I know all too well who will act as Foreman on this construction site!  I remember all those Christmases as kids, when we used to compete each year to see who got the most presents, or who got to pass them out.  I learn not to care whether the gold snowflake ornament is placed on the top left branch or the lower right. Whereever it makes her happy….that's where it goes!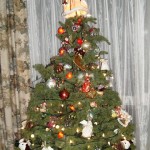 Eventually, we finish, she cooks us dinner, and we go veg out in front of the TV.  As I journey to slumberland, I realize I never got my Christmas cards written!  Oh well, there's always tomorrow!  There's still time in my plan to make it happen!
Over the next few weeks, I go shopping for gifts. I come home and show my mom what I bought for each person, and talk about what I still have left to buy.  My mom says she's just going to put money in an envelope for each person and be done with it.  Hah!  I know better than that!
Before I know it, I'm sent on errands to buy this for my sister, and that for my nephew, and the other for my cousin….  "I need to send a package to Greece. What are you doing today?"  Dare I say it?  "gee, mom, I was going to relax and hang out today"??    uh… no, I don't think so.   You know how it is with Greek (or Italian or Chinese or African American) moms. They only have to give you THE EYE!  It's all over.   

Whatever you thought was important, is now a total waste of time!  Schedule? What Schedule?  Nothing is more important than taking care of mama!
So, of course, off I go to the post office, the mall, the supermarket, the dry cleaners, and where ever else she needs me to go.  She is, after all, the all important Stakeholder of the house!  
As we get closer to Christmas day, and my shopping focuses more on the grocery store, I start thinking about wrapping the gifts. As I start wrapping my own, all of a sudden the pile of gifts grows, like the Magi just showed up and dropped their packages in my lap!  Guess what? My mom needed my wrapping services!   Oh, well, what are a few more boxes?  I'll just have to go get a little more ribbon, no big deal, right?  I'll just stay up a little later tonight and get it all done.  I'll just adjust my plan.
Finally, it's Christmas Eve, and my mom and I are in the kitchen prepping the food for tomorrow's feast!  She's making the Baklava and Honey Cookies. All the spinach is washed and trimmed, ready for the pan.  The gigantic Roast Beef is thawing in the fridge.  I'm adding more leaves to the dining table, and setting it. I plan what bowls and platters to use for which dishes. I label each dish with the food that will go in it, and each place setting with the person who will sit there. I think of everything I can do proactively to prepare for the next day.  I convince my mom the baklava won't go stale if we pre-pack it for each of our guests to take home with them.  She wanted to wait and pack it after Christmas Dinner so it would be fresher.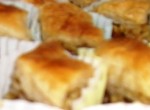 As always, I have to make a supermarket run, even though I asked her yesterday if she needed anything at the store.   It's OK, I needed some air anyway.  She says to hurry up and come back, but I know I'll conveniently forget to look at my watch.  We got to this point without worrying about sticking to a project plan, why start now? 
We finish our day's tasks, and fall into bed, exhausted from the day's preparations, but anxiously awaiting Christmas morning.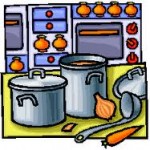 The morning will bring the final tasks to a close, our family and friends will arrive, the tree will be beautiful, the food will taste and smell spectacular.  By mid-morning, my mom and I are running things like a well-oiled machine.  The roast is in the oven, the veggies are cleaned, chopped, and prepped for cooking. The Spanakopita is a lovely golden brown, and waiting to be plated.  By 2pm, everything is on time, on target, and (ahem!) on plan! 
We take an hour nap as a reward for our hard work of the last few days, and to renew our energies.  Soon the doorbell rings, and my sister comes with the kids; then the neighbors. Soon, the house is a warm, aromatic, noisy, home full of Christmas Love!  The lights are twinkling; the kids are running around, the adults are sneaking bites of food as it comes out of the oven.
It's time to sit at the table, surrounded by family and loved ones, admiring the table full of our labor of love.  All of a sudden, it doesn't matter that we didn't stick to a plan, or that my schedule was ignored, or that surprise tasks and scope creep happened.  All that matters is that the most important Stakeholder of this project was happy and satisfied. Christmas is my mom's holiday. We got it the way she wanted it, the way she always made it for us, the way we will always want it… not so well-planned, but executed with a lot of love!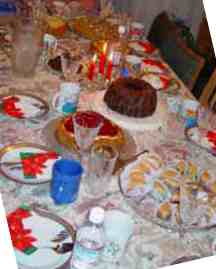 Merry Christmas, Happy Holidays and a Happy Healthy New Year everyone!
Opa!