"Project Open is a comprehensive project management tool, fully integrated within an enterprise resource planning (ERP) system."- Project Open in a Nutshell
Project Open offers another alternative to the big-box solutions and presents an interesting integration point that other similar solutions do not have, an integration with your ERP system.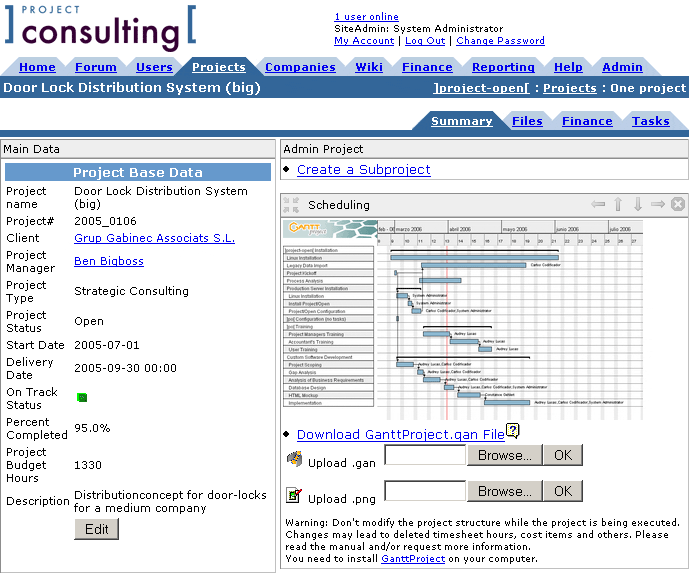 Project Open offers two options for installation, either a download and install on your server or a SaaS hosting and consulting model, which should fit most smaller companies well considering they won't need any IT support.
For a demo of the site, check out this site: http://demo.project-open.net/
 Here are some of details on the tool:
Project Open is a web-based "Enterprise Project Management" software for project-based organizations with 2-200 users. Project Open integrates areas such as CRM, sales, project planning, project tracking, collaboration, timesheet, invoicing and payments.
Project Open is one of the largest open-source based web applications in the world with more than 1,000,000 lines of code.
More than 1000 companies in 25 countries use Project Open to run their businesses.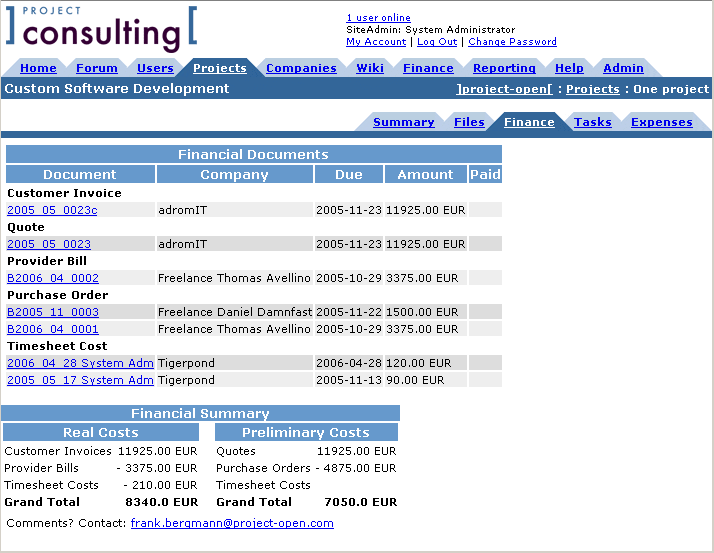 Here are some of the key features of the tool:
 Projects

Projects / Subprojects
Gantt Scheduling
Project Templates
Project Planning
Project Tracking
Project Reporting
"Earned Value"
Risk Management

Finance

Timesheet
Project Controlling
Profit & Loss
Project Invoicing
Purchase Orders
Expenses & Travel
Financial Reporting
Accounting Export

Reporting

Reporting-Engine
Data-Warehouse
Data-Warehouse (light)
Integrated Reports
Export Interface

 Customers

Unified Customer File
Customer Contacts
Key Account Permissions
Interaction History
Online Web Registration
Customer Tracking
Customer Classification
Customer Status Engine
Import Outlook Contacts

Collaboration

Project File Storage
Incident Management
News
Discussions
Chat

Human Resources

Unified User File
Employee Payroll
Employee Skills
Employee Recruiting
Employee Portraits

 Knowledge Mgmt.

Full-Text Search
Knowledge Mart
K-Permissions
Wiki

Translation

Translation Workflow
Trados Integration
Query Management
Translation Quality
Translation Status Reports
Automatic Invoices

Providers

Unified Provider File
Interaction History
Provider Skills
Here are my ratings of the solution (0-10, 10 being best):
Cost: 10 (Majority of modules are free)
Functionalities & Features: 9 (iPhone app available)
Innovative solution: 8
Support & Updates: 8 (basic is free, consulting services are additional to help you on your way)
Ease of use: 8
Ease of installation: 6 (on your own) and 9 as SaaS
Overall Rating: 9