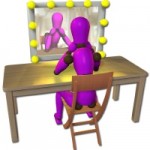 Whether it's a networking event or a job search, making the right connection is critical to your future success.   With unemployment hovering at 10%, how do you stand out among the crowd?
Before making connections, create your roadmap to job creation.  Focus on knowledge formation, be self-aware, seek guidance from others, and be creative.  It's time to throw away traditional views and practices – – your resume´ alone no longer opens doors for you – – it's all about presenting yourself in new and innovative ways.
Accomplishments and credentials no longer guarantee success; with more and more recognition around the power of multiple intelligences, you must be prepared to present yourself in a global way.  There are three primary intelligences to consider:  Emotional, Social and Cultural.  Emotional IQ is about your self-awareness, how you relate with others, your ability to self-manage yourself in all situations or environments.  Social IQ is having the ability to understand and manage social groups; you act wisely in groups and have knowledge of social situations.  Cultural IQ is having the ability to understand differences and cope with different behaviors. 
As you define your personal brand, remember the power of three.  Know your skills, your attitude and your behaviors.  Use this information to prepare for behavioral interviewing – this is when the interviewer will ask you probing questions under the premise that what you have done in the past will, to some extent, be a fair indicator of your future behavior.  Questions are designed to assess what you have actually done in situations that have some relevance to the role for which you are applying for.  Once asked about a certain situation, you will further interrogated with questions like, "What were you feeling at that time?" "What did you do next?"  "What did you learn from the experience?"  Prepare for multiple interviews, in group sessions, in different settings.
Before you journey down the interview path, contemplate your employment options.  Do you want a full-time role?  Are you better suited for a contract position?  Should you switch industries?  Volunteer? 
A self-assessment is a terrific way to be self-reflective before beginning the journey.  A good self-assessment includes:
A Value Inventory:  What creates job satisfaction for you?  Autonomy?  Prestige? Security? Flexible work schedule?  Leisure time?  High Salary?
An Interest Inventory:  What are your likes/dislikes regarding various activities?
A Personality Inventory:  What are your traits, motivational drivers, needs and attitudes?
A Skills Assessment:  What are you good at? 
Write it down, set it aside, and revisit a few days later.  Does it still make sense? Did you identify something new about yourself? Can you take the information from your Self-Assessment and create your own personal story?  Do you need an Assessment tool to get started?  Drop me a line, I'm happy to share—Get noticed, be hired.
Lisa DiTullio, Principal, Lisa DiTullio & Associates, LLC  www.lisaditullio.com